Making Waves – Summers at the Pool
From May to September, home for many of us is a lounge chair by our pool. Some of us go to the pool for a few ZZZs in the sun. Others actually go to swim.
Hours updated for the 2019 season!
The pool hours before Fairfax County schools close are:
| | |
| --- | --- |
| Monday - Friday | 4:30 pm – 8:00 pm |
| Weekends and holidays | 11:00 pm – 8:00 pm |
After school lets out, the hours change to:
| | |
| --- | --- |
| Monday - Friday | 12:00 pm – 8:00 pm |
| Weekends and holidays | 11:00 am – 8:00 pm |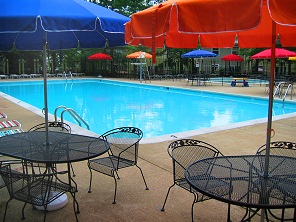 Please remember that everyone needs a pool pass, from tots to grandparents. And everyone needs to apply, every year. Our pool pass application is available as an online form.
Each year we publish the Pool Rules for you and your family to read. Please take the time to read the rules before opening day to ensure that the pool is enjoyed by all.
NOTE TO TENANTS: Tenant's applications do NOT have to be accompanied by a landlord's delegation of pool rights. Under a procedure adopted by the Board of Directors, delegation of pool rights to tenants is assumed unless the landlord explicitly directs the Association office to the contrary in writing. This simplifies paperwork immensely and eliminates delays in processing tenant's applications. Tenants should note, however, that information on the pool application is made available to the landlord if requested. Homeowners may notify the association of the desire to revoke tenant's rights by returning the landlord delegation form.
See you at the pool!